On September 16, 2017 at 7 pm,the first She Loves Tech Global Startup Competition and International Conferencewas successfully held at the Central Mobile Intelligence District in Beijing,China.
"She Loves Tech" is an eventco-hosted by the Beijing Women's International Center and Northern Territory. LeanIn China and Tech Rock united to launch a global movement promoting the leadership, development and advancement of women in technology.
The preliminary rounds of the startup competition took place in eight different countries, with eight global finaliststhen convening in Beijing for the international conference and global finals.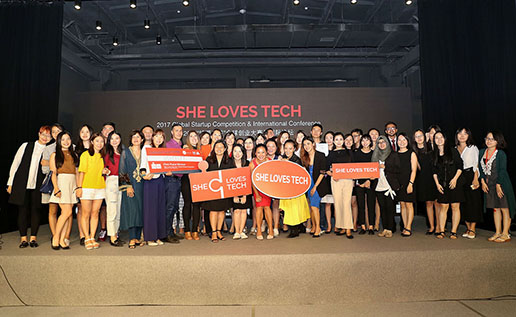 2017 She Loves Tech Global Startup Competition and International Conference
She Loves Tech founders Virginia Tan and Claire Du delivering a speech atthe opening of the 2017 She Loves Tech Global Startup Competition and International Conference.
At the opening of the event, Lean In China Co-founder Virginia Tan and Tech Rock Founder Claire Du delivered a speech. Virginia Tan said that now is a critical point in time, characterized by both the rise of the "she economy" andan era of rapid technological innovation. Virginia also noted that globally, women contribute US $12 trillion in consumer spending to the economy with women in China contributing about US $4 trillion.
Recently, however, negative reports of women working in the science and technology industries in the SiliconValley have surfaced. Virginia hopes that through programs such as She LovesTech, we can shed a positive light on women in the industry and share stories of Chinese women in the field. Virginia notes that when people discuss women intechnology, the majority of people will think only of leadership. This topic,however, needs to be addressed on a much deeper level; we need to find out how women can shape the future of science and technology, not only in order to serve themselves, but in order to serve the world, Virginia said.
Technology is a tool that is changing the lives of women and working to solve deeply-rooted challenges. During the process of establishing She Loves Tech, Virginia realized that women, technology and entrepreneurship can also serve as an international bridge, advancing peace and promoting economic prosperity.
Claire Du began her speech by sharing her own personal experiences, which include establishing platforms for Chinese and international exchange. However, she had never established international channels of exchange focusing on women. Last year, she received an invitation from the Israeli government to visit the Gaza Strip, where she was inspiredby a remark of her colleague that made her determined to launch She Loves Tech.
Claire's colleague said, "Educating women is the key to advancing peace, because women not only have the power to influence themselves and their families, but they also have the power to influence the next generation."
Claire said, "We hope to break stereotypes and show that women cannot only work in the fashion, beauty and household industries, but they can also become a beautiful CEO: Smart is the new sexy. At the same time, we hope that by uniting women around the world and establishing platforms for exchange between China and the world, to borrow from the famous Chinese linguist Zhou Youguang, we won't look at the world from China's perspective, but will look at China from the world's perspective."
The two founders also announced the launch of the "She Loves Tech xI.E. University" scholarship, designed to assist women wanting to pursuestudies inthe scienceand technology fields. They also announced the establishment of a fund which will invest in female startups in the science andtechnology fields as well as startups working to improve the lives of women, regardless of whether it was founded by a man or a woman.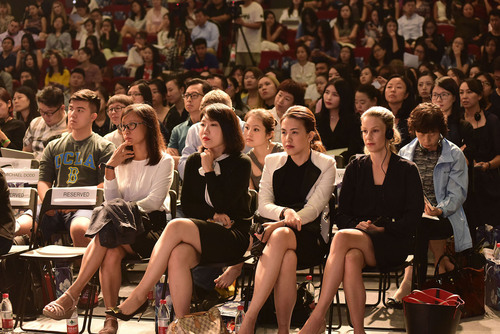 The audience at the 2017 She Loves Tech Global Startup Competition and International Conference
Women are key to the future development of science and technology
On the day of the conference, Jane Sun, CEO of online travel agency Ctrip and the first female CEO of a major Chinese technology company, delivered a speech in which she emphasized the opportunities that technology has opened for women across the globe.
According to Jane, technology can address complex, duplicate work, allowing us to pay greater attention to more creative work, allowing thinkers to have deeper thoughts, empowering females with greater capabilities, and freeing us with the time to really think deeply about innovation.
Jane said, "The first technological revolution was the industrial revolution; the appearance of the steam engine turned craftsmen into engineers. The second technological revolution came with the invention of electricity, during which machines significantly improved our productivity. The beginning of the third technological revolution was heralded in with thedevelopment of the computer and internet technology. The large computer has now become themobile phone, and with the development of AR and VRtechnologies, we won't need physical equipment in the future. Now, people are experiencing the fourth technological revolution, characterized by the development of technologies such as artificial intelligence, big data and cloud computing. These technologies will allow us to become even more innovative.
"The first and second revolutions achieved physical equality, while the third and fourth revolutions demonstrated that the knowledge and foresight of men and women are still more equal. Today, women and men are recognized as equally intelligent, and the development of technology is providing women with even more opportunities."
Jane Sun, in her experience negotiating around the globe, realized that women tend to recognize win-win situations, whereas men tend to see a hostile negotiation battlefield in which only one winnercan emerge. Women also tend to care more about other women, their families, and giving back to the community.
At Ctrip, the CEO, COO, and CFO all are women. However, overall, males are still in positions of greater leadership. Jane noted that Ctrip doesn't consider gender in the recruitment process and provides its females workers with many benefits, such as free cab rides home when pregnant and in-house child nurseries, so that they can be at greater ease at work.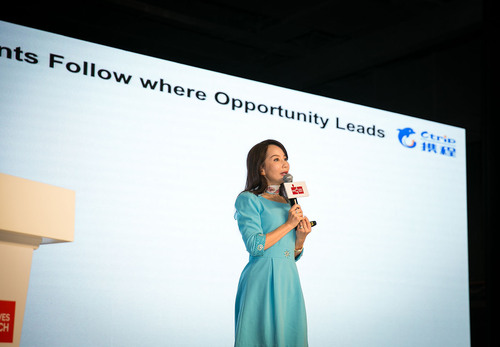 CEO of Ctrip Jane Sun giving a speech.
The era of female leadership
Annabelle Long, founding and managing partner at BertelsmannAsia Investments, delivered a presentation on female leadership. She believes that there is only one type of female leadership, and that it is of a natural kind that allows women to adapt to different situations: Women can be kind and inspirational, yet also able to make decisions withouthesitation and take responsibility when the time calls.
Annabelle said that femaleentrepreneurs have to put in more work than male entrepreneurs, including theirbodies, children's childhood, marriage statuses, etc. Therefore, when Annabelleinvests, she always rigorously asks female entrepreneurs, "Areyou really ready?" and "Are you set on pursuing this career?"
According to Annabelle, althoughfemale entrepreneurship is tough, women become very determined after makingtheir decision to enter the industry. This is a reason why it is worthinvesting in female startups. Annabelle believes that as an increasing numberof women become involved in social development, the future will be championedas the era of female leadership.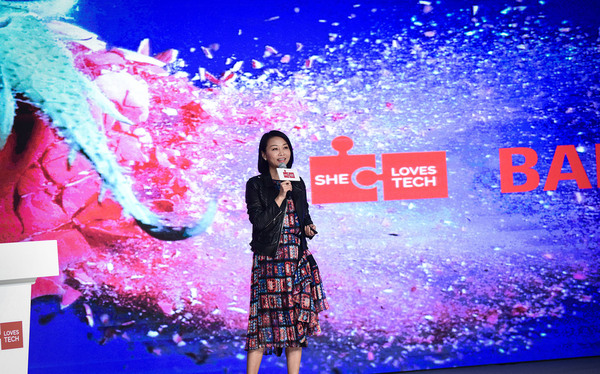 Annabelle Long, foundingand managing partner at Bertelsmann Asia Investments, giving a speech.
Female consumers drive economic development
The leading female executiveof a Chinese fintech company and Iqianjin's Vice President Yuanzhu Cai delivered a speech in which she spoke about the power of technology to transform the financial industry.
Yuanzhu said, "The last 10 years saw the rise of not only the "she economy", but also rapid growth in the services industries. Traditionally female traits including strong communication skills and attentiveness have contributed to the substantial increase in female managers, allowing for the growth of women's voices in the workplace. At the same time, the financial management needs of women continue to grow. According to data, around 60% of women control their family's finance decisions. For women who are more concerned about product yield, institutional safety, product risk and product holding period and other factors, Iqianjin has always been committed to utilizing innovative technology in order to increase three core businesses: risk management, business deals and large data modeling. We work to provide services such as small investments, community forums and financial management education to allow more women to receive detailed service feedback, product choices and guidance.
"In addition, incorporating large data into policy decisions through data science, machine learning and AI tools can significantly increase decision-making efficiency, allowing fintech to drive female financial management."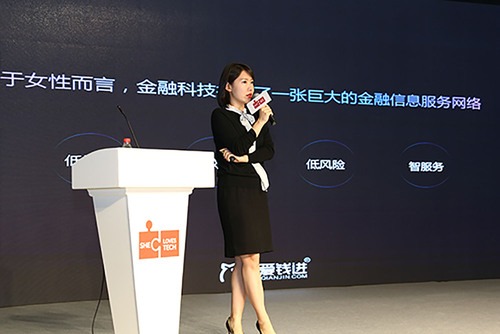 Iqianjin Vice President Yuanzhu Cai giving a speech.
Women and technology are key to promoting social missions
In the afternoon, Co-founder Austin Zhang and CPO Michelle Chen of bike-sharing startup ofo shared the organization's philanthropic roots and how it in turn developed into a unique entrepreneurial company.
Austin has a background in philanthropy: As a community-supported teacher in Qinghai, he would commute a long distance to school by bike, and it was here that the idea for ofo came. Recently, ofo collaborated with the Rihanna Foundation and donated a large number of bicycles to local girls in Malawi, making it easier for them to go to school.
On stage, Michelle shared with the audience female-tailored bike designs such as smaller wheels and bigger and sturdier bike baskets. She believes that technology has clear benefits for women.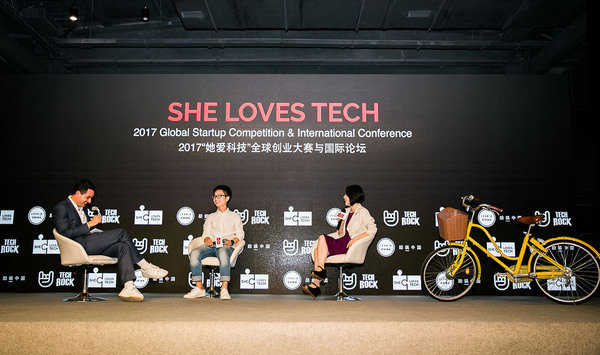 Coffee Chat with Bike-sharing Startup ofo: How to Create a Billion-dollar Company Using a Social Mission.
Kuan Capital General Managing Director Edward Frumkes and Hyde Capital Co-chair Lan Shi introduced "China's First X Prize: Protectingthe Environment Using the Power of Technology and Women". They discussed how to how to unleash female talent and move forward through innovation and technology.
Kuan Capital Chairman Edward and Hyde Capital Co-chair Lan Shi said that the X Prize would encourage community innovation, focusing on areas which are difficult for the government or individuals alone to improve. China's first X Prize aimed to tackle air pollution. The X Prize aims to encourage people to develop disruptive technology to solve problems by pooling together the collective wisdom and resources of society.
They believe that technology is extremely important for hundreds of millions of people, and that females have significant power and influence to invent it, use it and share it.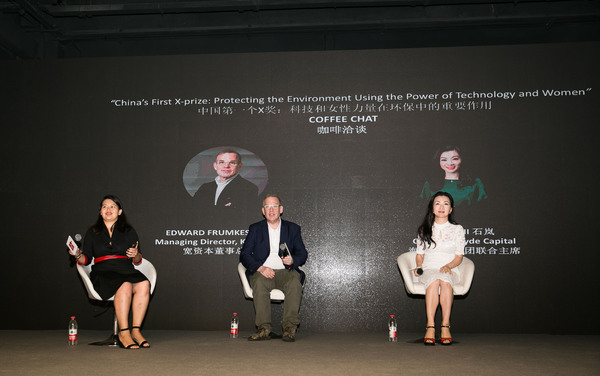 Coffee Chat with Kuan Capital and Hyde Capital: China's First X Prize: Protecting the Environment Using the Power of Technology and Women.
In the afternoon, the 2017 She Loves Tech Global Startup Competition took place, with eight global finalists from China, Hong Kong, Germany, Indonesia, Israel, Pakistan, Singapore and Canada delivering pitches before the judging committee. The competitors were: OKMeishuguan, Rong Duoyi, Milk Mama, and Skin Data (China); Re2You (Germany); Eragano (Indonesia); Voiceitt (Israel); Trashit (Pakistan); IoTsploit(Singapore); and QuantWave (Canada). They each represented a variety of industries including medical technology, industrial technology, AR/VR technology, cybersecurity, environmental protection, female consumer goods, AI and cloud computing.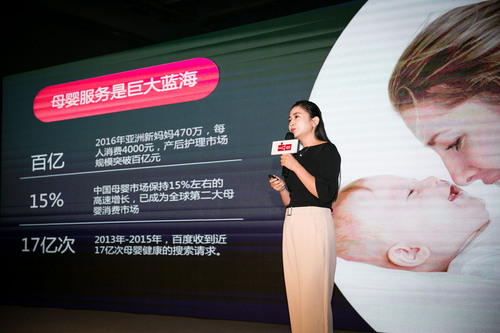 2017 She Loves Tech Global Startup Competition Finalists competing in Beijing.
It was Israel's Voiceitt, adisruptive speech recognition technology startup, which earned the judges'praise and became the 2017 She Loves Tech Global Startup Competition Champion. Canada's Quantwave took second place and China's Milk Mama came in third place.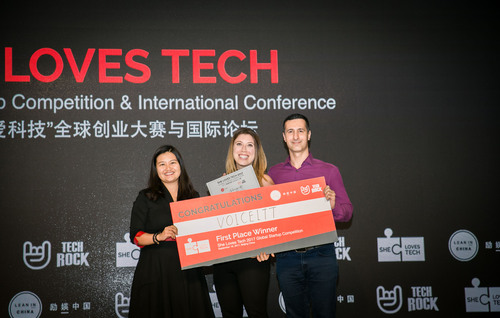 Israel's Voiceitt is the winner of She Loves Tech 2017.
Canada's Quantwave wins second place in She Loves Tech 2017.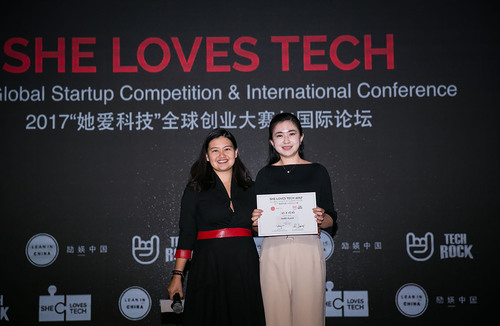 China's Milk Mama wins third place in She Loves Tech 2017.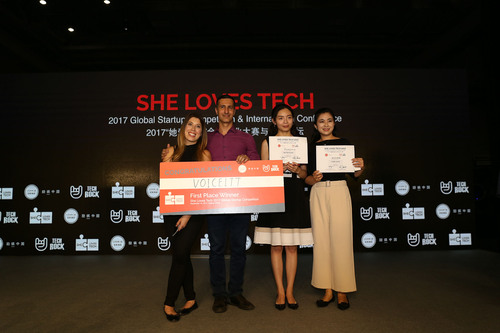 Group photo of the 2017 She LovesTech Global Startup Competition winners.
At the end of the conference, SheLoves Tech Co-founder Claire Du shared her PR advice for startups. The goal of PR is to find potential customers and partners; remember that once published, your actions and words cannot be taken back, so be cautious.
Partner Amelia Hall of the law firm Walkers provided startups with some things to keep in mind. First, consider the jurisdiction in which you establish your company; second, think of how you will raise resources; and third, choose a good law firm.
Cirq Technologies & Tamo TechCEO Biman Liyanage shared his HR advice: Before hiring technology talent,founders need to have a good understanding of the industry, attending various types of events in order to really understand technological requirements.
Yu Zhang, CEO of the Beijing Operation Center for China-Israel Biological Technology Co., advised companies going overseas to consider local cultural challenges, to adhere to local business rules and regulations, and to understand the importance of upholding contractual obligations. At the end of the discussion, EventBank co-founders Eric Schmidt and Olivia Ji discussed how to find the best partner.
CEO of Toproperty Cherry Sheng, General Manager at Blackrock Overseas Investment Fund Management Crystal Chen, Director at the Embassy of Israel Department of Economic Affairs and Innovation Roni Abramson, Senior Research Scientist at Intel China Jingyi Ma, CMO and Operation Partnerat Sinovation Ventures Anita Huang, and other distinguished guests discussed women, technology and innovation.
At the end of the conference, best-selling author and former Deputy Mayor of Los Angeles Joy Chen delivered a speech on creating good fortune in the workplace. She believes that the most successful people in the world are those with passion, and that we need to innovate to seek passion and meaning.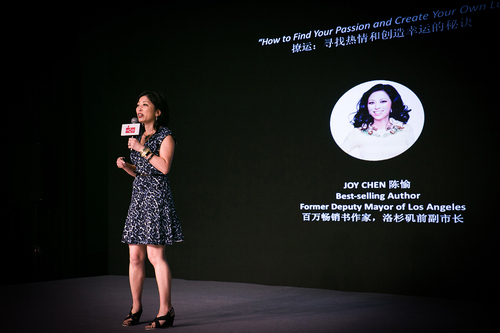 Best-selling author Joy Chen giving a speech.
About She Loves Tech
She Loves Tech is co-hosted bythe Beijing Women's International Center and Northern Territory. Lean In Chinaand TechRock united to organize and launch the 2017 She Loves Tech Global Startup Competition and International Conference, aiming to promote and showcase the newest trends in technology, startups, innovation, and most importantly, opportunities for women.
The first She Loves Tech Global Startup Competition is the largest-scale international female technology startup competition to date, consisting of eight preliminary rounds ofcompetition hosted in eight partner countries, all of which are part of the Belt and Road Initiative, including Canada, China, Hong Kong, Germany, Indonesia,Israel, Pakistan and Singapore.
Through the She Loves Tech International Conference, She Loves Tech provides opportunities to discuss the development of women in the fields of science and technology, working to help build Chinese female role models, encourage women to start their own business, and develop a platform for the development of female tech talent. She Loves Tech aims to show the world that females in technology have the power to be successful, influential and innovative.
She Loves Tech also hopes that the conference will allow China to showcase its successful technology to the world and establish China as a global center of innovation, science and technology. Women, technology, and entrepreneurship can help build bridges for international exchange and cooperation.
About Lean In China and Tech Rock
The first She Loves Tech Global Startup Competition and International Conference was organized through the cooperation of Lean In China and Tech Rock. Lean In China is a female professiona ldevelopment and peer support platform. There are currently 25 city and over 100 university Lean In China communities across the country, forming a national Lean In community of approximately 10 million people.
Through the establishment of communities throughout the country, Lean In China promotes a culture of mentoring and peersupport and also advances female growth and development through data, research and training. Tech Rock is a tech incubator, operating sub-brands such as TechTemple. Tech Rock aims to actively explore the differences between domestic and foreign startup environments; expand joint venture resources in China andabroad; and establish a domestic and international entrepreneurial exchange platform in order to build a "borderless" entrepreneurial resource network and promote the international expansion of entrepreneurial ecosystems.
For more information, please add us on WeChat at SheLovesTech, find us on Facebook or Twitter@SheLovesTechOrg or visit our website at www.shelovestech.org.