August 19 2017 | Karachi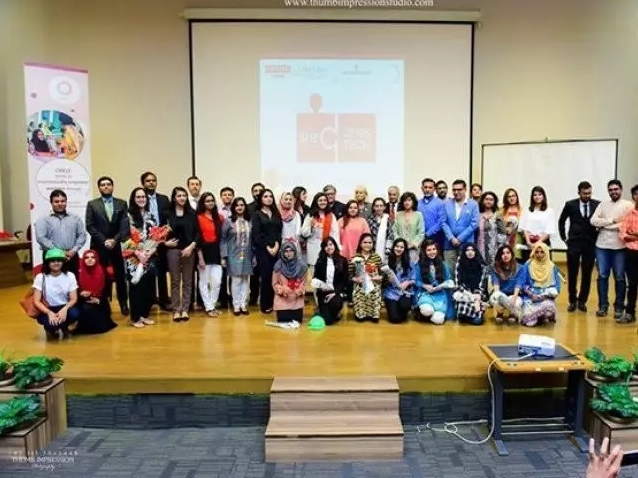 OnAugust 19, the Pakistan round of the 2017 She Loves Tech Global Startup Competition was held. Anusha Fatima, who launched her startup Trash It with the aim of empowering people to transition towards a zero waste lifestyle, took the top prize.
Jointly founded by Lean In China and TechRock, with the support of the Beijing Women's International Center, She Loves Tech consists of a global startup competition in 8 locations across the world – Canada, China, Germany, Hong Kong SAR, Indonesia, Israel, Pakistan, and Singapore, all strategic locations on the "One Belt, One Road" axis, with the final round of the competition held during the inaugural She Loves Tech International Conference on September 16 2017 in Beijing, China. She Loves Tech aims to showcase the newest trends in technology leadership, startups, innovation and the opportunities they bring for women, and is now the largest-scale tech startup competition for women.
The Pakistan round of She Loves Tech 2017 was hosted by Lean In China, Tech Rock and CIRCLE. Established by Sadaffe Abid, CIRCLE Pakistan aims advance women's economic participation and empowerment through innovative entrepreneurship and leadership labs, advocacy campaigns and research. Judges at She Loves Tech Pakistan included entrepreneurship professor Imran Sayeed, OPEN Karachi Chair Zakiuddin Ahmed, startup advisor and former Country General Manager of IBM Pakistan and Afghanistan Humayun Bashir, and Acumen Pakistan CEO & Country Head Ayesha Khan.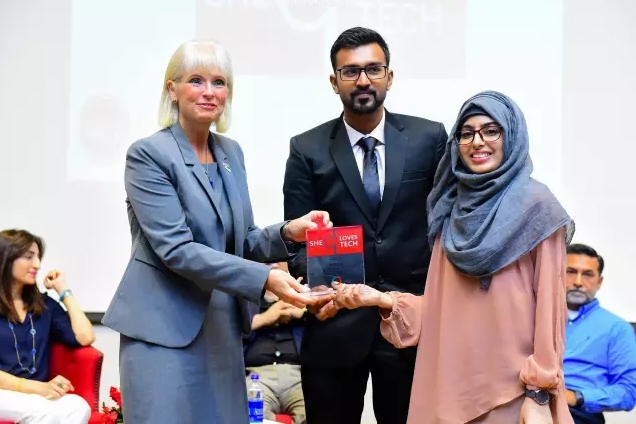 Winner Fatima with special representatives
Fatima, a computer science student at Habib University with a strong interest in Citizen Hacker and social development, will represent Pakistan at the She LovesTech Global Startup Competition finals in Beijing on 16 September 2017.
"In the process of founding Trash It, I continued to do research in order to design efficiently for families and have a model for organic waste disposal," said Fatima. "Recently, I was fortunate enough to win second place at the 2017 Karachi Entrepreneurship Weekend Competition. My team, ideas, inspiration and passion for this all started there and then."
Samar Hasan and CIRCLE came in second place with their startup, MeraPaisa. MeraPaisa helps low-income groups gain financial independence through digital payments and is committed to business development and democracy, dialogue and advocacy.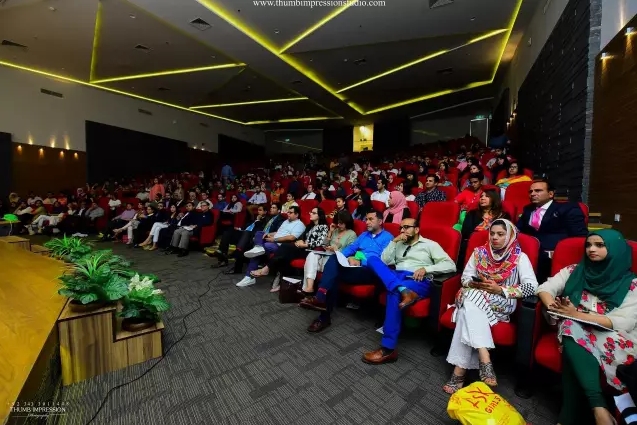 The audience at She Loves TechPakistan 2017
DoctHERS wonthird place and Sehat Kahani wonfourth place. Dr Sara Saeed Khurram, co-founder and CEO of Sehat Kahani, established the company's headquarters at the Pakistan Social Innovation Center. Sehat Kahani uses foundational healthcare advisory, knowledge and consulting services to improve the general healthcare environment.
Other impressive startups competing at She Loves TechPakistan 2017 included:
DoctHERS, a new type of healthcare marketplace using internet technology to connects female doctors withpatients in real-time.
SheKab, which aims to transform travel for women in Pakistan, providing women with safer, cheaper and more reliable travel itineraries.
Qayyam is an online B&B booking site for Pakistan.
ELN is an authorized online learning and professional training platform, giving all people the opportunity to increase the quality of their education.
Kafayak is a fintech startup committed to making saving through ROSCAs convenient, transparent and reputation-rewarding.
IoTA uses new distributed classification architecture, the Tangle, to overcome previous blockchain inefficiencies. It introduces a new blockless distributed ledger to reach consensus and create a decentralized peer-to-peer network.
AuratRaj is the first digital content platform to provide education, guidance, motivation and support to women in developing countries
Edvon provides easy-to-use software for early childhood scientific education. It aims to transform the education system by enabling schools to provide advanced state of the art education at an early stage.
Denise Herbol, Mission Director of US AID Pakistan, was a guestspeaker at the event. She noted that although the general work environment for women has improved in both Pakistan and across the world, there is still much room for improvement. She also added that women, as business professionals or entrepreneurs, face challenging and unequal treatment in the workplace.
Herbol said that it was wonderful to see great tech ideas from women. She added that females need to raise children and care for their families, and the startup ideas presented couldhelp improve their financial independence.
Sources: The Express Tribune
For more information, please add us on WeChat atSheLovesTech, find us on Facebook or Twitter @SheLovesTechOrg or visit ourwebsite at www.shelovestech.org.